♦ General Information
Meetings are held the 1st Sunday of the month unless the date conflicts with a major holiday. See the Calendar of Events for upcoming meeting dates. Guests are always welcome so stop in any time, we are glad to have you come and see what we are all about!
Unless noted otherwise, all events are held at the Izaak Walton League Lodge, 3518 Woodsdale Road, Abingdon, MD 21009.
The unpaved lane is on your right, just past the traffic circle as you enter Woodsdale Road from Route 924. It's easy to miss, but look for the lane immediately past the liquor store parking lot.
Calendar of Events
September 24-25, 2016 - Guild members to demo and vend at Steppingstone Fall Festival
October 1, 2016 - Guild members to demo and vend at Darlington Apple Festival, Darlington, MD
October 2, 2016. - Monthly Meeting; Memorial Service for Arline Moltrup to begin at 11 a.m.; Meeting begins at 1 p.m. Activity to be Announced.
October 9-10, 2016 - Annetta Kraayeveld Classes at Izaak Walton League Lodge
November 6, 2016 - Monthly Meeting; Activity to be Announced
November 17-20, 2016 - Nantucket Classes with Joni and David Ross. Classes at Izaak Walton League Lodge
November 26-27, 2016 - Festival of the Trees; Bel Air Armory, Bel Air, MD; Sat: 10 a.m. - 6 p.m.; Sun. 10 a.m. - 4 p.m.; Guild members to demo and vend.
December 4, 2016 - Monthly Meeting; Activity to be Announced
January 8, 2017 - Monthly Meeting; Activity to be Announced
Beginner's Workshop for
Non-Guild Members!
Our mission is to perpetuate the art of basketry...and one way to do this is to offer beginner classes for adults who have had little or no weaving experience.
Check this page often for class advertisements. If you'd like to get on our email list, send an email to: jhersey@zoominternet.net and request that your name be added to our list. We send only a few emails each year, and only to advertise upcoming classes and events you may be interested in. At any time you may send an email to "unsubscribe" from our list.
DCBG Partners with
Steppingstone Farm Museum
The Guild is currently partnering with the folks at the Steppingstone Farm Museum! The museum located in Susquehanna State Park, 461 Quaker Bottom Road, Havre de Grace, MD, blends nicely with the art of basketry.
The Guild has conducted several classes using the museum's facilities. The peaceful countryside and wonderful classroom (the Studio), provides a perfect setting for basketry classes and other Guild functions.
During the spring, summer, and fall weekend afternoons, you may find some Guild members weaving and talking with visitors about basketry. Looking for a fun afternoon with family and friends, stop by the Farm Museum. Check their website for more information, www.steppingstonemuseum.org !
Basket Bingo
When: Saturday, October 22, 2016
Doors Open: 12 Noon
Games Begin: 1:00 p.m.
Where: St. Paul's Evan. Lutheran Church
201 Mt. Royal Ave., Aberdeen, MD 21001
All prizes handcrafted by Guild members! Tickets will be available in August. Thank you!
Follow this link for more information!
Bingo Door Prize Project
It is the Guild's custom to give patrons to the bingo a door prize - a handcrafted basket.
For the 2016 Fall Bingo, we are making "Tiny Teas". Help us with this project by weaving some tiny teas. A link to the pattern follows.
Earn basket bucks for making Tiny Teas! Basket buck can be used to pay or help defray the costs of Guild classes!
Contact June Hersey or Louise Beyer for questions. Please turn in completed Tiny Teas at the October meeting - the bingo is approaching fast, and we'll need at least 200!
What is Guilders Weave???
Each January, 12-20 of our members go to "Guilders Weave". We talk about it a lot, but if you are new to the Guild you may wonder what are they talking about.
Well, here's some information that may clear up some of those questions.
For more information, go to tidewaterbasketryguild.org to learn even more!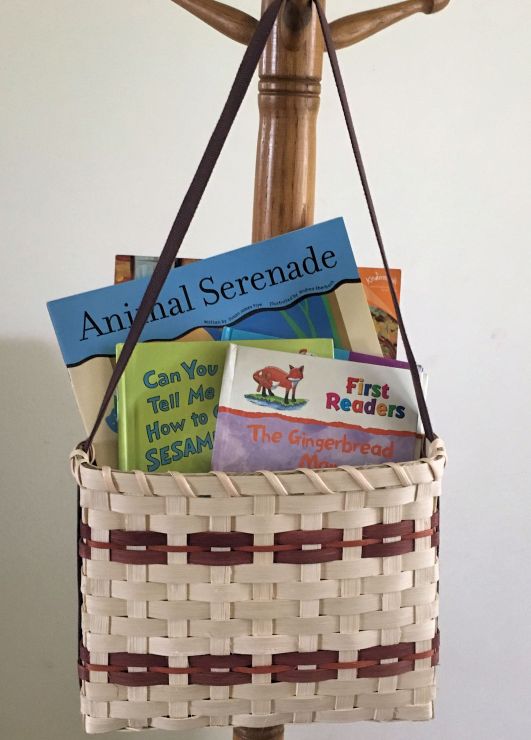 2016 Community Service Project
The Guild is pleased to announce its 2016 Community Service Project! A child's literacy tote, filled with books appropriate for a 3-12 year old child! The totes when woven and filled will be distributed to organizations who interact with families and children with limited access to books.
We plan to wrap this project up by the 2nd week in October. Members are asked to turn in any totes (finished or not) and any book donations at the October 2nd meeting.
Will start distributing totes in the next two weeks! Thanks to all for their generous support!


Want to Join...!
Complete the Membership Application and mail with your check payable to Deer Creek Basketry Guild, to: Membership Chair,
Nancy Coffey
1307 Delphi Court
Bel Air, MD 21014
or to DCBG, PO Box 514, Bel Air, MD 21014
Upcoming Classes
Annetta Kraayeveld
of Beloit, Wisconsin,will be teaching at the Guild on
October 9th and 10th.
Registration has closed!
Nantucket Classes - November 17-20, 2016
Classes taught by Joni & David Ross. Please go to their website www.handmadencbaskets.com On the left side of the page , please click on View Basket projects. Choose the projects that you are interested in , fill out a form and submit it. Please direct any questions to Joni and David. If the basket you would like to make is not on the website, please email us for availability. In order to guarantee your project is available, I will send in the first order September.20, 2016. I will send in my final order on October 15, 2016. As always they will bring lots of extras and a few new items.
If you are planning to attend the workshop, please be sure to log onto the North Carolina Handmade Baskets website and make your selection NOW. Keep in mind that our workshop is close to the holidays and the manufacturer of the wood parts to your selected basket(s) is extremely busy and may not have time to get the parts made to ship to Joni before coming to Deer Creek. If you wait you will have to hope that Joni has a basket kit in stock that you would enjoy making.
Also class will start at 9:00 am each day. We will end class at 5:30 pm with the exception of Sunday we will end at 3:00.
As in the past, we will have a continental breakfast and full lunch along with snacks and beverages for a nominal fee of $7.00 each day. You are welcome to bring your own lunch if you prefer or go out to the many places near by. A menu for each lunch will be sent to you as we near the date.
Looking forward to seeing all the Nantucket weavers in November!
Thanks, Art
Members -- Sell Your Baskets at
Guild Marketplace Events!
We know how family and friends love getting your baskets as gifts and they do become family heirlooms...but you may have a few that you'd be willing to part with by selling them. It's a great way to earn some extra money for classes and weaving materials. Consider it today! The Guild will have marketplaces set up at the following events. Just bring your baskets tagged with a corresponding Inventory Sheet. Click here for an example of a tag, and here, for a fillable Inventory Sheet. The sheet will do the price and sales tax calculations for you. (We do ask that your final price be a whole number (we just don't want to deal with change). )
Upcoming Marketplace Events:
September 24-25, Steppingstone Farm Museum, Fall Harvest Festival at the Museum.
October 1, Darlington Apple Festival, Darlington MD; 10-5 pm darlingtonapplefestival.com
October 22nd at the Guild Bingo
November 26-27, Festival of the Trees, Bel Air Armory, Bel Air, MD; 10 am-6 pm – Sat; 10 am -4 pm-Sun (uchfoundation.org)
Any questions, please contact June at jhersey@zoominternet.net or 717-309-9958